InMotion Hosting is a leading web hosting service provider, and the winner of several awards for providing high quality online services to its customers. Established in 2001, InMotion has seen a meteoric rise in popularity which can be attributed to the high quality of web solutions that they provide.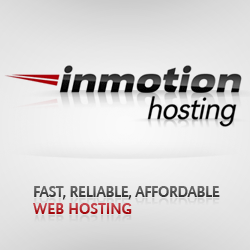 About the Company
InMotion Hosting is owned and operated by the employees of the company. The average experience of their employees is over 4 years, and the company is led by senior staff members with over 10 years of experience in this field. With the extensive experience they have, the employees of InMotion can fix everything about web hosting that needs fixing. The employees' technical proficiency combined with responsive customer service makes for a web hosting company that customers absolutely love.
InMotion Hosting has a number of hosting plans varying from plans for small businesses to plans for large corporations. Each of these plans has features that are most helpful to the market they target.
One of the most common reasons for people not hosting their own websites is that they don't want to pay for features that they don't need. InMotion Hosting understands that and provides plans which can be customized extensively to suit anyone's requirements. You won't have to pay for anything you don't want, and you'll have access to file hosting and ecommerce support.
Broadly speaking, hosting plans at InMotion Hosting are categorized as Personal, Business and VPS hosting. Each of these plans has sub-plans that can be customized to your need of disk space and bandwidth. For example, if you just need to host a website with 10 pages, you would pay as little as $6 per month. Regardless of the low price, you will continue to receive the same, high quality 24/7 customer service as you would if you chose a premium plan. The prices at InMotion are competitive, and quite comparable to those of the big hosting companies like GoDaddy and HostGator.
The basic, personal and business plans allow you to manage your websites using the control panel cPanel, which is the most popular control panel, and is used by millions of people worldwide. If you prefer editing web pages directly using programs like Adobe Dreamweaver or Fireworks, InMotion gives you FTP access to help you with this. Every hosting plan comes with a customized email account and the ability to use popular scripts like Joomla and WordPress. The installation of these scripts is as simple as a click of a button through the cPanel. InMotion hosting supports PHP, Perl and MySQL, which are among the most common technologies used to build websites. For a small fee, you could have InMotion take care of your web design too.
One odd feature about InMotion Hosting is their insistence on a long billing cycle. Unlike most hosts which allow monthly, semi-annual and annual billing, InMotion requires an initial payment for a 24 month period. Due to this long period of commitment, it makes sense for you to learn as much as you can about the hosting services provided by InMotion, and compare them with the other service providers. However, it is also important to consider that InMotion Hosting has been around for over ten years and have provided high quality hosting services to a large number of satisfied customers.
Business Class Hosting Evaluation
InMotion Hosting provides six hosting plans which include business and personal plans. These plans vary considerably in terms of the features and functionality offered. The entry level plans offer a very limited amount of disk space and bandwidth compared with the more expensive plans. The business class hosting solution provided by InMotion consists of three plans including:
1. Launch Plan
2. Power Plan
3. Pro Plan
The launch plan is the cheapest plan in the business hosting category that lets you host up to two websites and park up to six domain names on a single account. There aren't any limits on the disk space or monthly bandwidth. This plan allows you to use up to two MySQL databases with your websites.

The Pro plan and the Power plan in the business class hosting are available for $13.95 per month and $7.95 per month respectively. The Power plan lets you use up to 50 MySQL databases while you can use up to 200 MySQL databases under the Pro package. Both these packages offer unlimited storage space and unlimited monthly data transfer limits.
How Does InMotion Hosting Stack Up?
1. Reliability
InMotion Hosting uses a network based on the time tested Linux operating system. They promise 99.9% uptime, and in a 30 day test, the actual uptime that InMotion hosting delivered was 99.972%, which was astounding.
2. Price
While InMotion Hosting might primarily be a business host, they do offer competitive hosting plans for individuals too. At a low price of $3.00, they offer fast and reliable hosting which includes a free domain name, free privacy features, generous disk space and a high bandwidth allowance. InMotion doesn't provide unlimited storage and bandwidth under the basic plan, which does result in slower loading times. InMotion Hosting would be the best choice if you own a business or just want a fast and reliable hosting plan.
3. Email Features
InMotion is quite vague in what exactly it offers for email management. We know that InMotion allows POP3, SMTP, IMAP and Webmail access, but we don't know how much storage space and how many email addresses are included in each plan. However, features like catchall accounts, email forwarding, email aliases, spam protection and autoresponders are a standard inclusion in InMotion's hosting packages.
4. Support
If there is one area InMotion excels in, it is customer service and support. Their support staff is friendly, speaks fluent English, and offers quick and efficient support for any hosting related issue. InMotion provides unlimited 24/7 support via email, chat and phone. They also provide video tutorials and a knowledgebase to help users troubleshoot problems without having to seek support.
InMotion Hosting: The Final Word
InMotion offers hosting plans that allow user to pay only for the services they need. Their reliable systems, competitive prices and outstanding customer support definitely give us enough reasons to give InMotion Hosting a big thumbs up.